Created in 2020, the Lenovo Product Diversity Office (PDO) seeks to implement a Diversity by Design review board and introduce checkpoints to Lenovo's product planning, development and execution phases, which certifies that our solutions are both inclusive and accessible. On Global Accessibility Awareness Day, meet the innovators behind the PDO and learn what drives their ambitions to ensure that our products work for everyone – regardless of physical attributes or abilities.
Ada Lopez never dreamed that her early career as a middle school biology teacher would lead to a life of product design and innovation.
As the program manager for Lenovo's Product Diversity Office (PDO), Ada connects with research, design, and product development experts across the business to ensure that new devices are validated for both inclusivity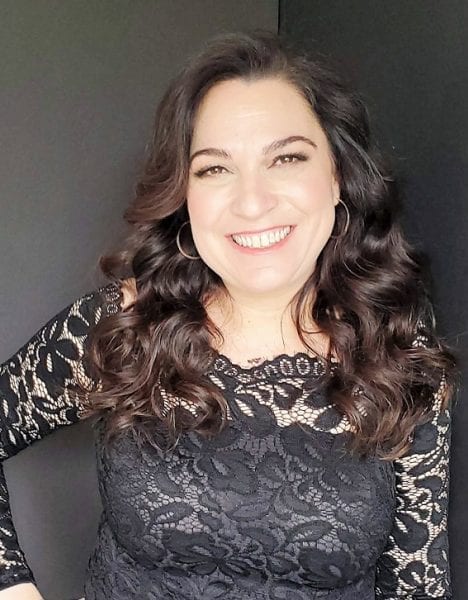 and accessibility in every step of the process. But her journey began with a simple passion for supporting children in need through education.
Education was a lifeline for Ada in her own formative years.
Born in Cuba, Ada immigrated to the United States with her mother at the age of five. At age 11, Ada suddenly found herself thrust into the foster care system after her mother was tragically killed in a car accident.
"I was constantly looking for a place to live," Ada recalls. "In the seven years that I was in foster care, I had eight placements. I tried to find my own placements so I wouldn't be put into a group home – I did a lot of relationship maintenance. That was always important to me, to feel connected to someone, because I was very, very alone at that time in my life."
At the age of 16, finding herself without a place to live again, Ada reached out to a former social studies teacher to ask for help in understanding how she could become emancipated from the foster care system. Instead, her former teacher agreed to take her in and give her a home while she finished out her education.
"My teachers really saw me," she remembers. "I believed that education was my ticket out of my situation, and when it was time to go to college, I knew I wanted to study science, but I also knew I wanted to study education, to help kids in need and offer them hope in the way that it was offered to me."
"I knew I wanted to study science, but I also knew I wanted to study education, to help kids in need and offer them hope in the way that it was offered to me."
After completing college, Ada pursued a career in teaching biology and quickly found a way to connect with her students.
"The kids always talked to me about their personal life," she says. "That human connection was always the most important to me."
It was that same ability to connect with others that Ada would later rely upon to help address the needs of students with disabilities. In 2006, Ada moved to teaching at the middle school level and found herself in a classroom where more than 28% of students required an IEP, or "Individualized Education Plan", designed to accommodate a learning disability or other general disability that impeded the students' daily lives. Low on funding and resources, Ada improvised.
"We didn't always have the right software for the laptops," she says. "But technology offered the opportunity for differentiation. I could prepare different lessons for different students – whether they were autistic or visually impaired or faced some other challenge – and it allow them to keep their privacy and integrity while participating in the same learning experience in a way that was accessible to them."
Those early years in the classroom would set the foundation for Ada's work in accessibility. Her field experience in the classroom led to a career opportunity as a product manager for K-12 science software with the very same company that was producing the content she was using with her own students. On the instructional design side, Ada expanded her knowledge through a number of initiatives – an interactive astronomy book, robotics coding workshops, partnerships with national schools for the blind – and worked under the direction of accessibility experts, many of whom had a disability themselves.
"This whole visual impairment community that I didn't know anything about just opened up," she says. "In science, we love to use diagrams, and I would create written descriptions of these diagrams for screen readers to pick up as alternative text. I was working closely with the Director of Accessibility at the time, who was also legally blind, and he would throw it back to me and say 'I don't understand this, this isn't a clear picture'. I learned how to really think about the solutions from the perspective of the user."
Ada's understanding of accessibility needs in education continued to evolve in her professional life, but she didn't yet realize just how important this work would be for her. When her son was two years old, Ada noticed something was a bit 'off' in how he processed information.
"We tested for a number of things early on, but nothing was conclusive," she recalls. "I couldn't put my finger on it, but something was definitely different. His speech started not coming out right, he began occupational therapy. I was a teacher, so I know what learning gains and losses are – and this kid was experiencing learning losses in kindergarten."
It wasn't until her son reached the third grade that a teacher was able to identify his dyslexia – a diagnosis that a number of tests, evaluations, and educators missed for years.
"I belong to the Dyslexia International Association, I read, I've tried to stay on top of it," Ada says. "It has still been so difficult to get him his services – the thing about these learning disabilities is that it's completely different for every individual."
Now in sixth grade, Ada's been able to secure more of the solutions and support her son needs, but his story reflects the more than 1 billion people around the world who live with a disability or impairment, and who are largely underserved by the tools and processes of mainstream society. It's a struggle that hits too close to home for Ada, and it's what drives her work in validating the design and production of new technologies to ensure they work for everyone – regardless of physical attributes or abilities.
"Accessibility became very personal to me," she says. "First it started out as, 'I'm going to help and advocate for my students'; then it became 'Wow, look at this amazing tech and the people doing amazing things for the visually impaired community'; and now it's 'I'm glad that you had all of this experience in your toolbelt because your kid really needs you to know this."
When Ada saw an opportunity to join Lenovo's Product Diversity Office, she found common ground between her personal passions for accessibility and the PDO's mission of develop solutions that represent the diversity of the global user. In January 2021, she accepted a role as the organization's program manager, and looks to bring in some of her expertise to give a voice to the underrepresented and underserved populations.
"It's really difficult to retrofit something like inclusion and accessibility – it's almost miserably impossible," she explains. "If you're interested in making products that are universally accessible, you have to be willing to make that a priority from the beginning rather than attempt to address it after the fact. The whole idea of the PDO's "Diversity by Design" protocol is intended to factor in diversity and inclusion early enough in the process and leading with that focus during the product development and execution."
"I think about some of my former students," she reflects. "Some of them were so brilliant and to design with people like them in mind, to consider their needs in the development of new technologies and solutions, we can enable people like them to share their gifts with the world. If we can make even one small change to give people like that a voice, it amplifies that collective pool of knowledge across all of humanity – we all benefit."