With the tide of global pandemic patients continuing, hospitals and doctors are under siege. Virtual Rounding technology can help ease the strain and keep doctors and patients connected.
Even before the global pandemic entered the global health picture in early 2020, the world faced an estimated shortfall of 18 million health workers, and in high-income countries, 7 in every 100 hospitalized patients could expect to contract a healthcare-associated infection during their stay. In recent months, global hospitalizations have climbed, but with shortages of personal protective equipment (PPE) and concerns about airborne virus transmission, checking in with patients is harder than ever. It's a once-in-a-century-sized challenge for hospitals, doctors and nurses: How to do more with less, marshaling spread-thin resources to help patients heal, all while keeping providers safe enough to fight another day?
It's no surprise hospitals are looking for anything that might ease the strain. This is where Lenovo stepped in, introducing its Virtual Rounding solution in May 2020.
Virtual Rounding allows providers to connect with their patients from anywhere – their office, another facility or their home – via high-quality video display and sound accessed with a single touch.
It's helping to solve a seemingly-impossible conundrum for doctors. Once the task of suiting up into full PPE is factored into the equation of seeing patients, making the rounds in a traditional way is not just resource-intensive, it can also amplify a patient's existing anxiety.
With the Lenovo Virtual Rounding solution, patients communicate directly with their doctors. The solution includes a Lenovo ThinkSmart View, an appliance for Microsoft Teams—a HIPAA-compliant collaboration and communication platform.  A ThinkSmart View in each patient room is configured for simplicity and patient privacy.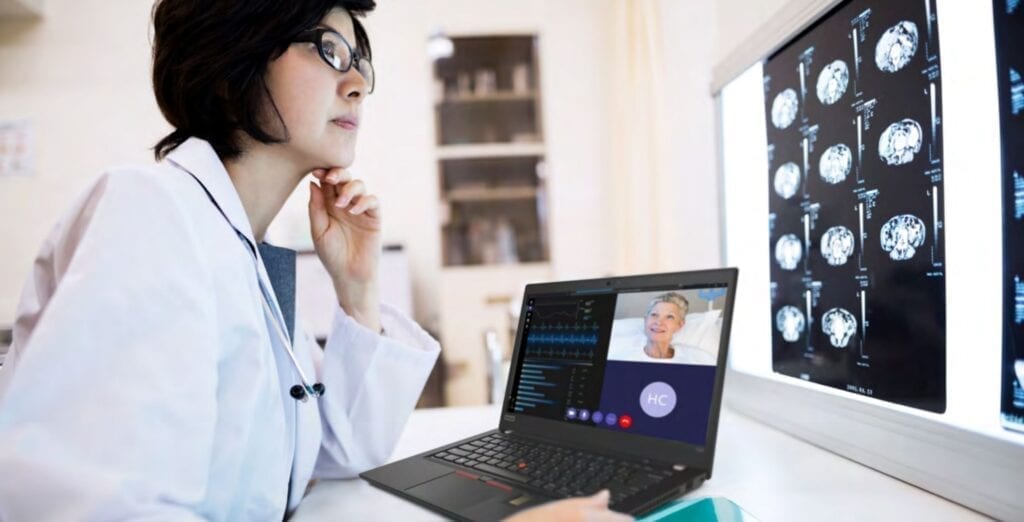 Aided by Virtual Rounding Professional Services, providers needn't be distracted by technical issues. They're supported with remote deployment and configuration, virtual installation and integration assistance to get things moving, and ongoing tech support, remote maintenance, and warranty support from Lenovo Services. That way, hospital CIOs can stay focused on what really matters: patient care.
"If you're talking to a hospital CIO, they want to make sure it works, it works all the time, it's fully supported, it's seamless," said Jon Pershke, Lenovo VP of Strategy & Emerging Business Development.
"What we're focusing on is a complete end-to-end solution," Pershke added.
Benefits move both ways – there's less risk of infections flowing from doctor to patient or patient to doctor, and this without stemming the all-important flow of information. And for hospitals, less time and energy spent securing and rationing PPE means more to invest in quality care. It's another tool in the kits of the providers, helping to keep care connected and human.
Importantly, Virtual Rounding uses versions of technologies that patients – even those who may be wary of the latest app or gadget – are likely already familiar with.
"In many cases you might have older patients who might not be as comfortable with technology. That's why, I think what's key here is not whiz-bang technology – these are proven devices," Pershke explained.
"Physician-patient communication is fundamental for good care," says Dr. Bob Monteverdi, Director of Global Healthcare Solutions, Lenovo." This solution preserves valuable face-to-face time, making daily rounds more efficient, convenient, and safe."