China is the largest coal producer in the world, holding 21% of global reserves. Risks accompany mining deep underground for that vast supply of coal. Workers often face Hazards such as gas, water, fire, structural collapse, and dense dust. Mechanization, however, gives us a safer way forward. Shearers—powerful machines that cleave large chunks of coal from mine walls—offer a powerful alternative. But since these large, complex machines operate in harsh environments for extended periods of time, the failure rate can be quite high.
Established in 1951, Xi'an Coal Mining Machinery Co., Ltd. is a leading designer and manufacturer of shearers in China. Operational reliability and safety are essential—fault diagnosis, prediction, and ongoing equipment health shape the product life cycle and directly impact productivity and profit. And that ignores concerns around costs of repair and maintenance. To solve such problems, Xi'an Coal Mining Machinery sought out suitable partners to explore more intelligent ways to keep shearers running optimally. To protect humans but avoid the pitfalls of pure automation, they needed a new solution.
Cue Lenovo's leadership in Intelligent Transformation. Lenovo New Vision and Xi'an Coal Mining Machinery started working together in late 2018 to use the breakthrough Augmented Human Smart Service (AHSS) and related solution to build a green, intelligent service platform for managing shearers.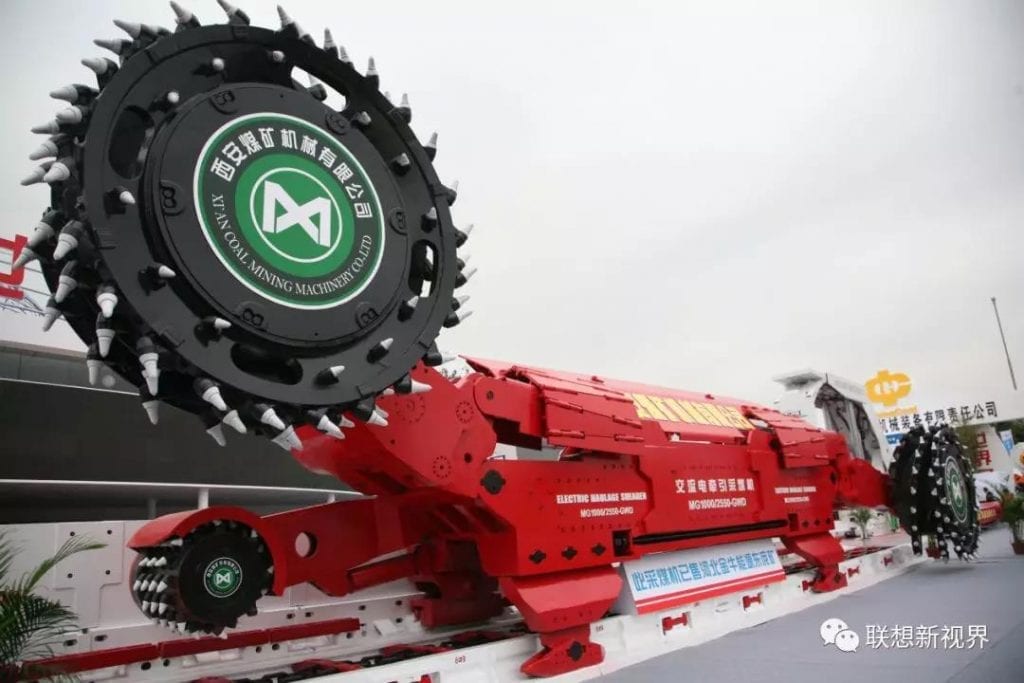 The platform uses sensors to collect data from the shearer system, using information technology and artificial intelligence inference algorithms to monitor, manage, and evaluate the health status of the machine. Beyond that, the algorithms help predict the failure of shearer elements before problems can even arise.  The cloud-based service integrates intelligent identification, storage, content editing, and video communication. The system supports the latest in augmented reality (AR) glasses assisting and accelerating industry. As they drive coal machines, workers can wear monocular or binocular AR glasses developed by Lenovo New Vision. The images collected at the scene wirelessly travel to the background management terminal, where experts at the can guide on-site personnel in real time through voice and glasses interaction—convenient and efficient.
The first phases of the collaboration between Lenovo and Xi'an Coal Mining Machinery is already complete. AHSS successfully connected all the processes of the whole equipment life cycle, effectively linking all relevant parties to build a smart service system that leverages big data analysis and intelligent model decision-making. Problem prediction is underway to ensure the stability of the shearer operation.
"As one of the largest mining companies in China, Xi'an Coal Mining Machinery's business mostly relies on the shearer," said Min Long, Deputy General Manager of Shaanxi Coal Group.  "We are honored to cooperate with Lenovo New Vision. The combination of AR, AI, and big data technology enables implementation a solution which not only enhances technological capabilities of Xi'an Coal Mining Machinery's staff, but also allows us to improve product design and optimize the supply chain through timed quantitative data analysis providing references for decision-making."
To accurately obtain the first-hand information, Lenovo New Vision's technology leader entered the mine to work alongside miners, shearer operators, and repairers.
"As an inspector, we cannot check equipment parameters and status in real time, but a fault may occur in a matter of millisecond," said Zhao Shupei, head of Xi'an Coal Mining Machinery Technology Project. "The maintenance challenge is often the lack of understanding of a shearer's real-time status, which may result in misoperation. Without audio and video recording during work, we can't obtain accurate data to shape a specific and timely maintenance plan."
In the next phases, Lenovo New Vision's AR glasses will be able to automatically identify equipment and immediately display the status and show the maintenance process for customers. That information plus the predictive analysis results are displayed on a terminal that helps inspectors analyze and process exceptions. Guided maintenance displayed by the glasses reduces the skill requirements for workers, greatly improving the success rate of the first repair and availability of expertise. When encountering difficulties, maintenance workers can call back-end experts through the glasses to obtain professional guidance.
"Compared with the traditional fault detection and diagnosis method, Lenovo New Vision's technology leads intelligent maintenance to a new level," said Boyun Lu, Chief Technology Officer of Lenovo New Vision. "AHSS can predict the future health status of complex equipment and change the passive maintenance activities to proactive maintenance support activities, thereby improving operation for our customers while reducing cost through the whole life cycle."
Soon, equipment operation managers will monitor large-scale complex equipment in Xi'an Coal Mining Machinery remotely and in real time. Once potential problems are found, the intelligent service platform will quickly give maintenance suggestions and transmit them back through the industrial IoT. Xi'an Coal Mining Machinery can even carry out independent, intelligent maintenance. At the same time, in order to familiarize operators with new equipment, new functions, and operation essentials, Lenovo New Vision's technology will organize systematic training for technicians so they can independently complete skilled operation and maintenance, solve common faults on their own, and ensure safety.
In the future, AH technology will be at the forefront of technology. Lenovo New Vision's technology will link 'AR/VR+AI+Industry' and real-world objects with back-end data through the AH Cloud—a complete, intelligent system for the decision-making of front-line workers. Look for Lenovo New Vision to further develop and spread these intelligent solutions and bring the AH Cloud platform to a wider range of industry customers.
---
About Lenovo New Vision
Lenovo New Vision, affiliated with Lenovo Group, focuses on the development of high-tech applications such as AR/VR, AI, and big data. It integrates R&D, production, sales and services, and provides customers with professional and comprehensive industry solutions in infrastructure, platform development, hardware support, system integration, and service guarantee. Lenovo New Vision is the first provider of complete E2E industry solutions in China. It has independently developed smart glasses series, Augmented Human Cloud (AH cloud) and AH Smart Service (AHSS) intelligent solutions, covering intelligent manufacturing, smart education, smart security, smart medical care, and smart parks.
https://www.lenovo-ar.com/