December 16, 2021 – Lenovo™ Legion has announced an extension to its partnership with Berlin-based G2 Esports organisation, which sees it continue as official desktop and laptop sponsor through to August 2022. The announcement coincides with a live-streamed event with G2's first ever all-female team for VALORANT, something which Lenovo™ is incredibly proud to be supporting. The stream will be available today (Thursday, December 16) from 8pm CET at https://www.twitch.tv/mimimimichaela.
The G2 female VALORANT team, known as G2 Gozen, comprises some of the most successful and prominent female esports talent within the industry. The team roster includes Julia "juliano" Kiran (Sweden), Michaela "Mimi" Lintrup (Denmark), Zainab "zAAz" Turkie (Sweden), Petra "Petra" Stoker (Netherlands) and Cecilie "Cilli" Kallio (Denmark).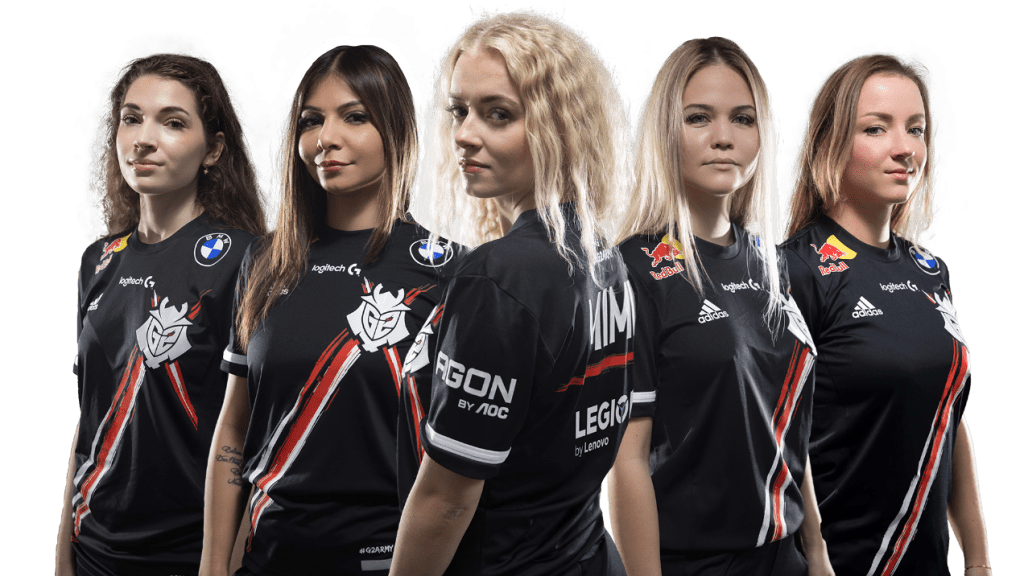 G2 Esports is recognised as one of the most successful and highly respected esports organisations in the world. G2 strives to hire the best and highest performing gamers in the industry to compete at the highest level possible, irrespective of gender identity.
The partnership with Lenovo Legion puts some of the best gaming equipment in the world into the hands of some of the top professional gamers on the planet. Lenovo supplies Lenovo Legion desktops and laptops to G2 Esports' League of Legends, Rainbow Six Siege, Rocket League, Fortnite, SIM Racing teams and now also G2 Gozen, ensuring they have the best possible gaming equipment required for the ultra-competitive world of esports.
As part of the deal extension, Lenovo Legion branding will continue to be used for offline and online activities and included on team merchandise such as the G2 Gozen's jerseys. A number of both digital and physical activations, highlighting the strengths and synergies of the partnership will also take place over the course of the next year.  Much of this will be focused around delivering an exclusive fan experience – collaborating and hosting game nights in Lenovo Legion's dedicated Legion Community.
G2's greatest achievements include participation in League of Legends Worlds Finals 2019, winning R6 GSA League 2021, and 1st place at Rocket League Spring Series in North America.
Carlos 'Ocelote' Rodriguez, Founder and CEO of G2 Esports, comments: "I am proud to see what our Gozen team accomplished in three months. Their dedication and their killer's mentality are making them as entertaining to watch as challenging to play against. Ensuring that they have the best gear to continue having this level of success is our responsibility, hence why Lenovo taking part in the future of this team is a must for us."
Alberto Spinelli, EMEA Chief Marketing and Comms Officer, Lenovo, comments: "The extension of this partnership between Lenovo Legion and G2 Esports is a natural fit. Both brands are synonymous with delivering great performance and together, we can ensure that all the G2 esports teams stay at the top of their game. We're proud to be able to promote and recognise female gamers through this agreement with G2 Gozen."
About Lenovo
Lenovo (HKSE: 992) (ADR: LNVGY) is a US$60 billion revenue Fortune Global 500 company serving customers in 180 markets around the world. Focused on a bold vision to deliver smarter technology for all, we are developing world-changing technologies that power (through devices and infrastructure) and empower (through solutions, services and software) millions of customers every day and together create a more inclusive, trustworthy and sustainable digital society for everyone, everywhere. To find out more visit https://www.lenovo.com and read about the latest news via our StoryHub.
About G2
G2 is one of the world's leading entertainment and esports brands. G2 was co-founded in 2015 by legendary League of Legends player-turned-team owner, Carlos 'Ocelote' Rodriguez, and veteran esports entrepreneur and investor, Jens Hilgers.
In the past five years, G2 has built a global fanbase of over 32 million fans spanning EMEA, North America, Latin America, and Asia Pacific. International household name brands are increasingly recognizing the opportunities that esports can offer to tap into an engaged youth audience. G2 currently counts the likes of Lenovo, BMW, Logitech G, Philips, Red Bull, Twitch and Mastercard amongst its strategic commercial partners.
Boasting an Instagram following of 1.4 million and Twitter followers in excess of 1.4 million, G2 has a loyal community that follows every twist and turn of the club's fortunes along the global esports calendar.
More information is available at: https://g2esports.com
LENOVO and LENOVO LEGION are trademarks of Lenovo.