Industry Leaders Driving Predictability, Innovation and Partnership in the Radiology and Imaging Ecosystem
CHICAGO, Dec. 6 2021 – Lenovo and LG Electronics are working together to advance new medical imaging solutions for the radiology community. The offering bundles LG's high-performance medical monitors with the Lenovo OEM Solutions commercial third-party portfolio of offerings.
On the heels of RSNA 2021, the annual meeting of the Radiological Society of North America, the Lenovo-LG bundle will provide diagnostic and clinical solutions in key imaging areas through the combination of Lenovo ThinkStation workstations and LG Medical Monitors.
Accelerating Visual Healthcare Solutions in Radiology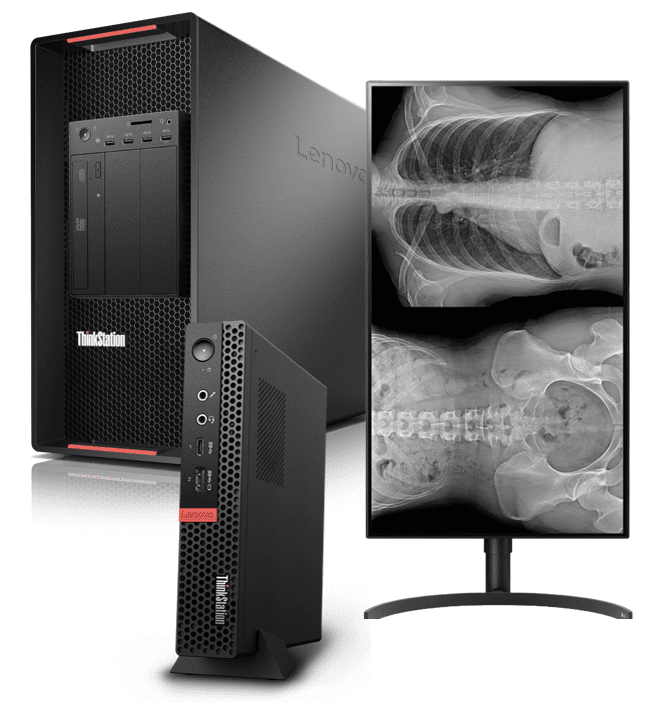 The global pandemic has become a catalyst for digital transformation and accelerated the push to develop new solutions that operate efficiently in dynamic technology ecosystems. The radiology information systems market is expected to be worth over $979M by 2025, representing a CAGR of 7.4%.1
"Proven technologies that can support the most advanced AI-enhanced medical imaging solutions, including object detection and segmentation, are being increasingly adopted by healthcare systems. Lenovo workstations combined with LG medical monitors are rising to the opportunity to advance healthcare," said Tom Hurlbut, Lenovo OEM Business General Manager & Global Executive.
"LG's clinical and diagnostic medical monitors are designed to empower health care professionals to make informed life-saving decisions," said Brian Fabrizio, medical information displays team leader at LG Business Solutions USA. "Working with Lenovo helps streamline the purchase process for LG medical monitors."
'Perfect Match' for Medical Solution Developers
Complementing Lenovo's ThinkStation workstations, LG's healthcare monitors enable improved quality of medical services, providing consistent, high quality images.
"As we expand our third-party offerings, this LG medical monitor collaboration is a timely decision for powering what's next in healthcare and radiology. The predictability and reliability of our ThinkStation portfolio matched with the quality and performance of LG monitors is the perfect match for medical solution developers," said Hurlbut.
For more information about this OEM solution for medical imaging, featuring Lenovo ThinkStations and LG Medical Monitors, contact your Lenovo or LG sales representative.
1Report Linker Global Radiology Information System Market (2019-2025)
About Lenovo
Lenovo (HKSE: 992) (ADR: LNVGY) is a US$60 billion revenue Fortune Global 500 company serving customers in 180 markets around the world. Focused on a bold vision to deliver smarter technology for all, we are developing world-changing technologies that power (through devices and infrastructure) and empower (through solutions, services and software) millions of customers every day and together create a more inclusive, trustworthy and sustainable digital society for everyone, everywhere. To find out more visit https://www.lenovo.com and read about the latest news via our StoryHub.
About LG Business Solutions USA
The LG Electronics USA Business Solutions division serves commercial display customers in the U.S. healthcare, lodging and hospitality, digital signage, systems integration, education, government and industrial markets. Based in Lincolnshire, Ill., with its dedicated engineering and customer support team, LG Business Solutions USA delivers business-to-business technology solutions tailored to the particular needs of business environments. LG Electronics USA Inc., based in Englewood Cliffs, N.J., is the North American subsidiary of LG Electronics Inc., a $56 billion global force in consumer electronics, home appliances and air solutions. LG is a seven-time ENERGY STAR® Partner of the Year. For more information, please visit www.LGSolutions.com.
LENOVO and THINKSTATION are trademarks of Lenovo. "LG" and the LG logo are registered trademarks of LG Corp. All other trademarks are the property of their respective owners.