In a staggering feat of modern construction, crews in Wuhan, China built two hospitals in 10 days shortly after the coronavirus outbreak began. The emergency hospitals relieved an overburdened hospital system in what was effectively ground zero for what is now an ongoing and unprecedented pandemic.
For a small group of Lenovo employees, those days in late January will be forever remembered as a time of rapid and meaningful collaboration alongside colleagues and friends to meet a devastating technical challenge.
Emergency Construction Begins
As hospitals in Wuhan became instantly overcrowded with patients, construction began on January 23 of the Huoshenshan hospital and again on January 27 of the Leishenshan hospital. The day after emergency construction crews broke ground on the first hospital, Lenovo created an epidemic prevention and control team that decided to donate all the IT equipment needed by Huoshenshan.
Delivering hundreds of computers, tablets, printers, and more to the hospital in such a short time—and in a way that would be safe for everyone involved—posed an incredible challenge to the team. Still, the scale and operational experience of Lenovo made the team optimistic they could contribute all the necessary parts within the aggressive 10-day timeline.
"We just want to do something, to help by providing whatever IT equipment the hospital needed," said Lu Yuan, General Manager of Lenovo's Commercial Customer Business of Hunan and Hubei provinces (Wuhan is located in Hubei province).
Round the Clock Coordination
Getting the products to the hospitals through a largely quarantined city was the first task, followed immediately by assembling IT and maintenance volunteers needed to make it all work on site. Enter Lenovo's after-sales service engineers from across the country: Xu Tan, Senior Manager of Lenovo Customers of Hubei and Wu Zhiyuan, Senior Sale Manager of Commercial Solutions.
The two had been working without interruption since the first day of the Chinese New Year. Xu Tan wrote in his work diary: "Time is flying. We are racing with time by solving IT problems. Our duty is to better equip the front-line medical staff for a better fight."
Wu Zhiyuan worked at Huoshenshan Hospital for more than 12 hours a day. "The complex environment is far beyond imagination," said Wu. "Under normal circumstances, with the speed of Lenovo, 15 people and 500 sets of equipment can be fully installed and commissioned in less than 24 hours. However, the 24-hour, non-stop construction requires coordination from multiple parts, such as communicating with the hospital's organizer, establishing the on-site network, and syncing with tech experts at Lenovo headquarters."
The 24-hour, non-stop construction requires coordination from multiple parts, such as communicating with the hospital's organizer, establishing the on-site network, and syncing with tech experts at Lenovo headquarters.
_
Wu continued, "In general circumstances, one PC is equipped with one printer, but for the hospital each medical PC needs to connect to three printers: a wristband printer, a case printer, and a receipt printer, which is a tough challenge for compatibility. Huoshenshan alone has 500 desktops, and if we install the equipment one by one, the workload is beyond imagination. But with the help of Lenovo IDV [a desktop solution that can quickly install thousands of PCs] we installed the desktops of 500 computer terminals at once, enabling doctors and staff to use them immediately. Also any problems can be handled remotely, which is not only extremely efficient but also reduces the frequency of entering any contaminated areas."
A group of Lenovo engineers and hospital support completed the installation and commissioning of more than 1,400 pieces of equipment at both hospitals in only a few days to ensure that the hospitals would be able to provide services to patients on time.
By February 2, all IT equipment donated to Huoshenshan Hospital was delivered, updated, installed, and put into use—just one day before its doors opened to patients on February 3.
With 1,000 patient beds and 2,000 medical staff, the building of Huoshenshan was a tremendous challenge, and for many—not least for the Lenovo employees involved—it was a miracle it all came together.
This was, in many ways, just the beginning of Lenovo's efforts to support employees, customers, and communities as COVID-19 spread. In China, our efforts continue, bolstered by our colleagues around the world.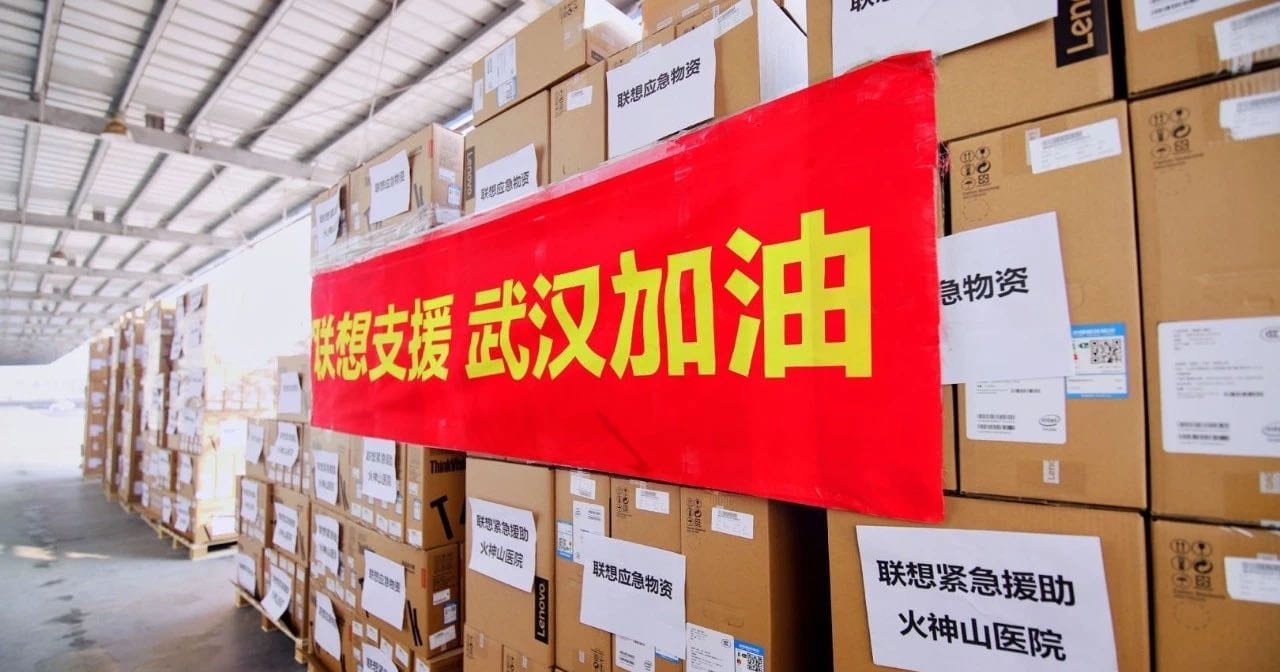 Jan. 20, 2020: Lenovo epidemic prevention and control team was established.
Jan. 23, 2020: Lenovo quickly set up an epidemic logistics emergency management team.
Jan. 24, 2020: Lenovo's Data Center Group provided free upgrades and 24/7 on-site service support for Wuhan medical institutions (and would further provide 24/7 service support for medical institutions across China).
Jan. 25, 2020: Lenovo announced plans to donate IT equipment needed for urgent assistance to Wuhan emergency medical projects.
Jan. 28, 2020: Five global regions of Lenovo set up epidemic response committees to provide employees with health checks, and physical and psychological consultations.
Jan. 29, 2020: In order to produce enough servers for epidemic prevention on big data platforms, the Lenovo Shenzhen factory set up a production team to complete the development of the employee return identification system.
Feb. 1, 2020: Lenovo Foundation launched a 10-fold donation-matching campaign for Hubei.
Feb. 4, 2020: Lenovo completed donation, installation and debugging of all IT equipment to Huoshenshan Hospital. Lenovo equipment was connected to the Hospital's imaging system and health system, including:
520 PCs
120 tablets
285 printers
450 sets of desktops IDV software
2 servers
+100 other devices
DCG China's service department launched a free online remote diagnosis and treatment module for Zhuhai province.
Feb. 6, 2020: Installation and debugging completed for all IT equipment donated to Wuhan Huoshenshan Hospital (including 700 PCs 160 tablets, 375 printers, supporting software and desktop systems, etc.). Lenovo launched Internet "online consultation" service for Heilongjiang Daqing Longnan Hospital to provide citizens with free health consultation services.
Feb.7, 2020: Lenovo supplied 200 PCs, 16 all-in-ones and 100 printers to Xiaotangshan Hospital in Zhengzhou, China. All equipment software was installed and delivered to the hospital at night of the same day. Launched Lenovo Foundation Hubei Community Epidemic Prevention Voluntary Service Small Funds Project — all of the funds used to support ordinary residents and front-line personnel who have contributed to community epidemic prevention.
Feb. 8, 2020: Lenovo announced that it will provide job opportunities for employees of subject matter experts (SME) who recently lost their jobs (available in Shenzhen, Wuhan, Hefei, Huizhou, and Chengdu).
Feb.10, 2020: Lenovo completed the installation and debugging of infrared temperature measurement equipment in Chongqing in 48 hours to ensure steady advancement of epidemic prevention in the Liangjiang New Area.
Feb.13, 2020: Lenovo provided SMEs with a 100-day free license of the Microsoft Office commercial version, including software such as EXCEL, WORD, and PowerPoint, to help employees work remotely.
Feb.15, 2020: Lenovo Foundation and its employees raised a total of RMB 1,786,159, all dedicated to Hubei's epidemic prevention and control, with zero management fee.
March.3, 2020: Intel and Lenovo collaborated with BGI Genomics to accelerate analysis of the coronavirus genome.
March.9, 2020: Lenovo CEO Yuanqing Yang donated 10 million yuan to his alma mater USTC to fund scientific and technological research on COVID-19.